Southport Central

Following the sell-out success of Southport Central's first stage - Tower 1 - NextGen Reality was commissioned to create an interactive sales Kiosk to further this striking development's success driving the sales of future stages Tower 2 & 3. Designed and created...

Read More...
---
Nextgen Reality Pty. Ltd.
1.4 SPACE
328 Scottsdale Drive, Robina
Queensland, 4226, Australia

P: +61 7 5502 1132



Contact Us
---

"NextGen Reality consistently deliver above and beyond our expectations. Their professional attitude and extensive knowledge of the latest technologies have allowed us to explore new approaches with our clients and produced excellent results."
- Greg Short
Chairman,
Electronic Entertainment Design and Research

Hilton Surfers Paradise Hotel and Residences Kiosk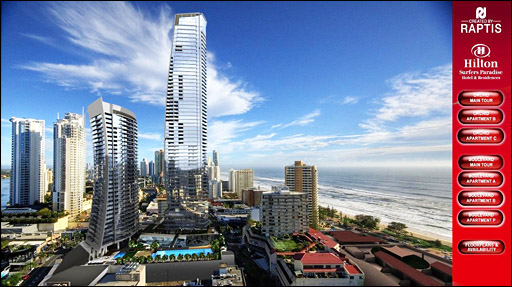 NextGen Reality has been developing and producing pre-visualisation animations and marketing technology for this prestigious development since it's conception. This dual tower development will comprise 410 residences and 170 hotel rooms and is situated on a 7480sqm site. With our proprietary interactive touch-screen kiosk systems installed into the multi-million dollar sales room located in the heart of Surfers Paradise, and also being used by agents around the world, prospective clients have the opportunity to preview the ins and outs of this impressive development, such as apartment and facility tours while having access to each and every available floor plan at the touch of a finger.

Accordingly, Raptis and the Gold Coast Hilton have won the 2008 UDIA Suncorp Queensland award for marketing excellence. The Gold Coast Hilton has been a tremendously successful campaign with a record sales rate and an unprecedented public response.
ABOUT THE SURFERS PARADISE HILTON
Created by Raptis, managed by Hilton, enjoy a red carpet lifestyle in the heart of Surfers Paradise, the most enduring and admired seaside resort city in Australia.

Stylish apartment residences will be complimented by the exceptional service and reliability of Hilton, one the world's most celebrated five star hotel operators.

The highly desirable Hilton Surfers Paradise offers a unique chance to live in a world renowned beach location and to invest in Queensland's Gold Coast, Australia's fastest growing place. For more information, please visit GoldCoastHilton.com.
Sales / Marketing Agents Wanted
January 5th, 2008
We're looking for motivated, self-driven, enthusastic marketing people located in all parts of the world.

Read More...
---
Unannounced Feature Film Teaser Completion
Decemember 15, 2008

Completed work on an unannounced Feature Film's CG teaser. Click the image above for a look at a select few images. We hope to have approval to showcase the entire teaser soon..
---
Feature Film project
October 22, 2008
Visual effect shots produced for unannounced feature film.
---
'Sculpt Studio' technology demo
September 3, 2008


Completed work on our new advanced lighting setups for interior renders, providing an even greater level of realism for our clients - take a look at our sample 'Sculptor's Studio' renders by clicking on the image above.
---
Pinot Grigio Cinema promotion
August 28, 2008
Visual effect shot completed for National cinema campaign.
---
Mirtna Capital promo
August 14, 2008
Agent: Pro Motion. Campaign launch for investment group Mirtna Capital.
---
Raptis wins 2008 UDIA marketing award
June 27, 2008


Congratulations to the Raptis Group for winning the 2008 UDIA award for marketing excellence for the Gold Coast Hilton. We are pleased to have been involved in such an innovative and prestigious project and look forward to producing more award-winning world class marketing materials with them in the future.

Read More...
---
HighStreet at Hilton announced
June 15, 2008

High Street at Hilton opens for leasing opportunities. NextGen Reality's CG fly-through released showcasing the development's amazing facilties.

Read More...